Doula Support and Birth Photography
The Signature Birth Photography + Doula Support Package
A good team is hard to find, but the search is always worth the effort. If you've been seeking is a passionate group of talented birth workers with some serious expertise…you've found it in Gather Birth. We're experienced and educated doulas as well as trained birth photographers with an eye for honest storytelling. Together, we've supported more than 275 births. We can't wait to share our distinctive team approach with you as we continue serving families in Minneapolis, St. Paul, and the surrounding suburbs.
Your Signature Birth Photography + Doula Support Package: $3000
Your one-of-a-kind collection includes the following support and services, fully inclusive of the preparatory support, birth doula services and professional birth photography:
Before your baby arrives:
PHOTOGRAPHY
On-call time from the date of contract

The option to upgrade your package at an exclusive rate to include an Expecting Family Photography session
DOULA
Unlimited email and phone support for questions and a safe place to vent

The Gather Birth Cooperative birth planning worksheet

The insight, knowledge and support of a pro doula as you work to create the best birth plan for your family

One in-person prenatal visit to discuss your birthing hopes and concerns

Directory of local & online resources for pregnancy and birth - plus access to our well-stocked lending library

A copy of Gather's nourishing postpartum freezer meal prep guide

24/7 on-call doula support for your birth, beginning the moment your contract is signed
During birth:
PHOTOGRAPHY
Professional documentary-style birth coverage from active labor through up to two hours postpartum

The option to add on an extra hour or two at the end of your birth session at a special rate
DOULA
A guarantee you'll be supported by one of our trusted doulas during your birth

Prompt, reliable and engaged communication during early labor

Our physical presence, when and where you need it - whether we meet at your home or birthing location

The perfect balance of emotional, positional, and physical support

Evidence-based and judgement-free information throughout your labor and delivery, as well as our assurance that we will help inform you through any unplanned or proposed interventions

Experienced support for your partner to guide them in caring for you while also meeting their own needs
After your baby arrives:
PHOTOGRAPHY
A photo preview within 24 hours of birth
Up to 100 images edited in Gather Birth's signature style

A password-protected digital album with full download and print rights

The option to upgrade your package at an exclusive rate to include a New Family Photography session
DOULA
Up to two hours of support following the arrival of your new little one

One virtual or at-home postpartum visit, depending on your needs and preferences, to talk through your birth, assist with transition and/or offer lactation support
Interested in videography? Add a birth film to your doula and photography package for $1000.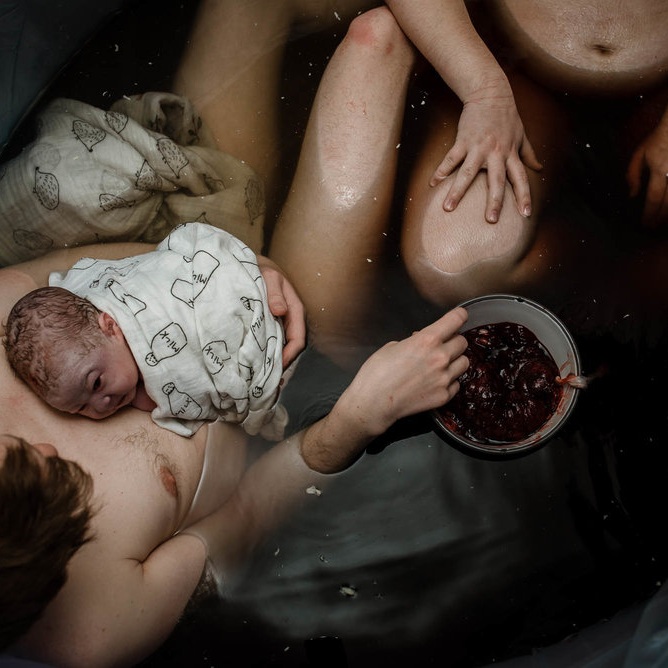 Real Postpartum Photography